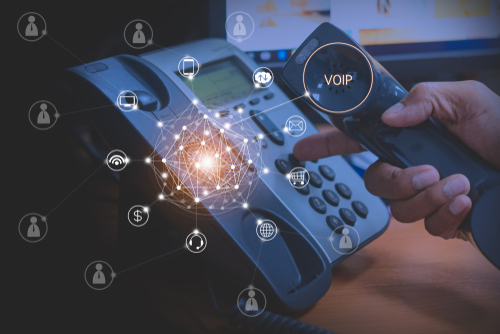 Federal Communications Commission (FCC) regulations prohibit organizations from making unsolicited marketing and collection calls to telephones where the consumer is charged for the call, which includes some Voice Over Internet Protocol (VoIP) providers. However, there is no national VoIP phone number "Do Not Call List". This is why Interactive Marketing Solutions (IMS) has created a service to help address this need.
How Does the VoIP Block Identifier® Work?
The VoIP Block Identifier® file identifies blocks of numbers (the first 7-digits of the 10-digit number) that are assigned to VoIP carriers.
An updated file is made available twice a month for download and contains over 460,000 blocks representing some 460 million phone numbers that are currently assigned or may be assigned to VoIP phones.
A replacement VoIP Block Identification® file is created twice a month, zipped and placed on the website on or about the 10th and 24th of each month. When the new file is posted, a notifying email is sent to all subscribers.
What Records Does Each VoIP File Contain?
Each record within the updated file contains three primary fields. The three fields are:
· NPS (area code)
· NXX (exchange)
· X (1st digit of the remaining number - the block of 1,000 numbers)
The three fields contain a total of 7 digits that identify a block of 1,000 telephone numbers assigned to a VoIP provider. These 7 digits, representing the area code, exchange and 1st position of the telephone number, must be matched to the first 7 digits of the consumers telephone number. A match indicates that the telephone number has been assigned to a VoIP provider.
Additional VoIP Block Identifier® Information
IMS attempts to identify all VoIP blocks; however, telephone service providers (carriers) identify many VoIP blocks as landlines and they might not be included in our file.
Our file will not identify landlines that have been ported to VoIP providers.
Subscribe to our

VoIP Block Identifier® file

today
Listed below are our 12-month subscription pricing plans for both End Users and Service Organizations:
· End Users: $1,975 (if you clean lists you own).
· Service Organizations: $4,125 (if you clean lists belonging to others).
Choose to pay by credit card now or receive an emailed agreement and invoice.
For your convenience, we've included a few links below that will assist with answering some questions you may have regarding our Wireless Block Identifier® file.
· VoIP Block Identifier®; Frequently Asked Questions
· How to use the Wireless/VoIP Identification Products
How can I correctly identify all wireless telephone numbers?
To correctly identify all wireless telephone numbers, organizations must use the Wireless Block Identifier® File and the Wireless Ported Number File together.