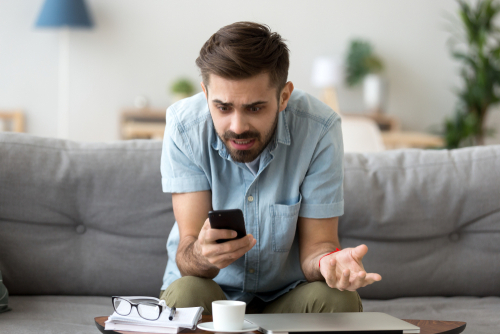 Reassigned Telephone Number Identification Services
What is The Reassigned Number Database (RND)?
When a telephone number is reassigned or permanently disconnected, companies calling consumers may inadvertently reach the new consumer (who now has the reassigned number), not who they intended to call (the number's prior owner). These calls can be annoying to the recipients who do not want to receive them and can subject callers to liability under the Telephone Consumer Protection Act (TCPA). The Reassigned Numbers Database (RND) is an important step to help companies comply with the TCPA and avoid fines of $500 to $1,500 per call. And the worst part is that the calling company may not realize they are violating the TCPA until it is too late and they are hit with the costly fines.
The RND was developed and made operational by the FCC on November 1, 2021. It is a database of telephone numbers that have been permanently disconnected (or reassigned) and includes the date of disconnect. "Callers" are advised to use the database to:
· Save time and money by eliminating calls to the wrong person.
· Protect their brand and ensure they have the correct contact information for their customers.
· Take advantage of Safe Harbor protection provided by the TCPA and stay out of the headlines.
Who should use the Reassigned Number Database?
Any entity or enterprise that calls or texts, for things like appointment reminders, service renewals, debt collection, customer service notifications, value-added service offers, etc. should use the RND. "Callers" must use the database to identify if a Telephone number has been disconnected since the date of the last successful contact and to help ensure they are contacting the correct customer.
How do you use the Reassigned Number Database?
The RND is not a database that an organization can download and use on their premises. The consumer telephone numbers and date the number was last successfully called must be uploaded by the calling company or Caller Agent to the FCC site. This information will be used to query the database and identify if the number has been disconnected/reassigned since the date submitted.
Does the Reassigned Number Database work?
During the first 18 months of operation, the RND accumulated 245 million disconnected telephone numbers, processed over 150 million queries and helped companies avoid making 8.5 million calls/texts to the wrong person.
Let IMS work for you!
IMS, as a registered Callers' agent, is authorized to submit telephone numbers to the FCC's Reassigned Telephone Number Database (RND) on behalf of Callers to determine if the number has been discontinued/reassigned since the last successful called date. Data is submitted in a text file and the reassigned status (see below) is appended to each record.
Advantages of using IMS as your Caller Agent for RND processing are many and include:
· Ease of registration and data submission.
o There are several steps in the registration process that are confusing to the casual user.
o IMS registration is simple just create a new account, or existing customers just log-in, and subscribe to our SmartClean service.
o Data files may be submitted from any workstation or terminal by any staff member.
o No complicated forms to complete.
o IMS will complete the RND registration process for you and be sure to include your identification on each query submitted for "safe-harbor'' protection.
· No requirement to purchase large blocks of queries.
o The RND requires the advance purchase of query packages in a pre-determined size. The choice of query blocks can get confusing and expensive. Also, if you don't use all the queries within a fixed timeframe, they are forfeited.
o For most IMS query submissions, pay only for the queries you submit, when you submit them.
· Flexible file and data formats.
o File sizes of up to 15,000,000 records may be submitted. The RND maximum file size is 250,000 records, which we handle in a manner transparent to our clients.
o Telephone numbers may be in any standard format, with or without dashes, and other delimiters.
o Dates may be in any standard date format.
o Up to 2 optional fields of data may be included in each record.
o Each data field will be returned in the format it was received – for ease of matching back to internal files and databases.
o Invalid data is flagged and returned consistent with the file format (RND separates and returns records containing validation errors in an inconsistent format).
· Identification of Wireless, Landline and VoIP telephone numbers.
o Subscribers to our Wireless Block Identifier®, Ported Number and VoIP Block Identifier® files will receive wireless, landline or VoIP identification for each telephone number submitted free of charge.
For pricing and other questions, please email Solutions@ims-dm.com or call 203-653-2762
Getting Started
1. Complete and email the CallerAgent registration package: to solutions@ims-dm.com to provide us permission to register you as a client and upload data on your behalf.


2. If you are not already an IMS customer, please click on the Subscribe link and register – Select SmartClean as the product. Completing the registration does not commit you to use IMS as your exclusive agent and you may, at any time, register with the RND service and submit data on your own.
3. When the registration process is complete you will receive a confirming email and telephone data may be uploaded via our SmartClean Link (SFTP uploading is available upon request). After your data is submitted you will be provided with the upload count and asked to pay via credit card, you may accept or cancel the service at that time. If canceled, all submitted data is removed from our servers.
4. When uploading a file, please include the following:
a. A tab or comma delimited text file containing the 10-digit or 11-digit (with US country code) telephone number in any standard format, with or without dashes or other delimiters and date of last contact in fields 1 & 2 respectively, followed by up to 2 optional 15-character fields of your choosing.
b. The text file must contain between 1,000 and 15 million records. (Larger files may be submitted as a special request.)
c. Upload data via SmartClean - just log into www.ims-dm.com using your IMS credentials, click on the SmartClean link, check the TCPA and Reassigned number boxes, and upload your file.
5. Once the file has been uploaded, we will submit it for processing and depending on RND availability, return the data to you usually within the same day, but no later than 24 hours. The returned file will contain:
a. Columns 1 & 2 will be your original telephone number and date.
b. Column 3 will be the return code below.
c. Column 4 will identify the telephone number as Landline, Wireless or VoIP. This is an IMS premium feature free to subscribers of our Wireless Block Identifier(R), Ported Number and VoIP files only.
d. Columns 5 & 6 will contain any optional fields included with the submitted data.
Return Code Description
| | |
| --- | --- |
| Yes (The number has been disconnected) | Queried number is contained in the database and the date the Caller provides in the query is the same as or before the permanent disconnect date for that number in the RND. |
| No (The number has not been disconnected and may be called) | Queried number is contained in the database and the date the Caller provides in the query is after the permanent disconnect date contained in the RND. Or the number is not in the database and the date the Caller provides is on or after January 27, 2021. |
| No_Data (The RND cannot determine if the number has been disconnected) | The queried number and a permanent disconnect date are not contained in the database and the date provided in the query is before January 27, 2021. |
| Invalid | The telephone number and/or date is invalid, and the data was not matched to the reassigned database. (See Note Below) |
Note – Query Validation Criteria:
o Telephone Number - 10 or 11 (+1) digits and may include separators (e.g.,5555555555, 555-555-5555, (555)555-555, 15555555555, etc.).
§ Area Code (NPA) 200 or greater.
§ Central Office Exchange (NXX) 200 or greater.
o Date - Valid Date Format (MM/DD/YYYY, YYYY-MM-DD, MM/DD/YY).
§ Today's date or earlier (no future dates).